What's Going On?
A great deal is the answer to "what's going on". You will see from the content of this month's newsletter that the work continues, the number of members in the group is growing, we've had some fantastic publicity and there is lots to look forward to.
For the first time we are "advertising" roles within the group. This is a great step forward as there is very little known about the skills and experience of the members, never mind what they would like to do within the group, so please contact the committee if you are interested in the roles or any other aspect of the group.
Next month's newsletter will have a summary of the season, not only from a member perspective, but from the people we have been working with.
I hope you enjoy reading about what's happening, don't hesitate to drop me a line with feedback on any aspect of the group.
Kevin
What's Going On?
I can't believe the endow another season is already in sight with a record number of sessions already behind us. Fortunately the weather has been with us so far, with the increased number of sessions proving ever popular with the members.
Graham has continued to carry out invaluable work in planning what we do, where we do it and how we achieve the overall objectives in the wood. Of course there remains an overriding objective to ensure we all get the logs we work so hard for, the by product being excellent quality woodland management in line with the expectations of the Woodland Trust.
Every month is busy, but the weeks since Christmas have been packed with activity. A huge amount of work carried out on ride-edge clearing, tracks cut into the woods for extraction, management of a number of difficult larger trees and a steady progression through the compartments. Thank you everyone for the continued hard work.
Lots also going on around the development of the group and membership growth. Plenty to read about in the articles below.
Don't forget to regularly check the booking system as dates are being added
Kevin
We are very proud to be a winner in the category of "Best Community Woods" in the 2019 Woodlands Awards. Thank you to all of our members who have volunteered at our wood fuel sessions.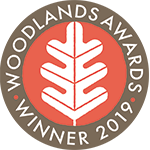 If you have a wood burner and would like access to free logs from sustainable sources within the National Forest, why not come along to Donisthorpe Woodland Park to see how joining Heartwood Community Woodfuel Group can help you.
The event will run between 10:00 and 14:00 on Sunday 15rh December 2019 during which time you can get a feel for how we work and what the benefits of joining us can be.
A Free Taster Event With
Heartwood Community Woodfuel Group
If you have a wood burner, would like free firewood, love spending time outdoors and fancy joining a group of like-minded people - why not come along to find out what we do and how you can be part of it.